1. High thermal efficiency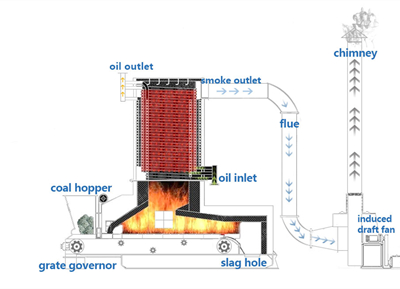 1) The boiler is circulation heating in liquid phase, there is no heat loss leaded by condensing, thermal efficiency is high, and the boiler is very safe when operating.
2)Adopts horizontal type three pass structure, improve the heat utilization efficiency.
3) The boiler shell use aluminum silicate board for heat preservation, low heat loss.
4) Equipped with economizer, make full use of flue gas heat, decrease the exhaust smoke temperature.
2. Large combustion chamber
1) The boiler combustion chamber is composed with chain grate and large diameter coil, large combustion space, high combustion efficiency.
2) Combustion equipment and boiler upper part are designed separately, the boiler combustion chamber could be designed based on the characteristics of different fuels, wide adaptability of different fuels.
3. Excellent coil design
The radiation section adopts square coil, and the convection section adopts serpentine coil, the heating coil has a good thermal expansibility, low stress, safe and reliable.
4. Automatic chain grate
1) The small scale chain grate boiler could resist the temperature as high as 1200℃, long working life.
2) The chain grate has a low coal leakage because of the small gap.
4) Convenient for maintenance, it could be done without boiler shut down.
5) Based on customers' requirement and fuel characteristics, the grate could be designed as small scale grate, chain belt grate, and bar grate, etc.
5. Sufficient output
The boiler adopts horizontal type three pass structure, improve the heat utilization efficiency. Large heating area, good heat transfer, achieve high thermal efficiency and sufficient output.
6. Perfect automatic control
The boiler adopts PLC full automatic intelligent control cabinet and interlock protect system, has the protect function on oil temperature, medium temperature, pressure, etc, adjust conveniently.